Endoscopic Plantar Fasciotomy with Gastrocnemius Recession for Chronic Plantar Fasciitis
Rajesh Simon, Julio C Kandathil, Dennis P Jose
Volume 3 | Issue 2 | May – Aug 2018 | Page 20-23
---
Author: Rajesh Simon [1], Julio C Kandathil [1], Dennis P Jose [1].
[1] Dept. of Orthopaedics, VPS Lakeshore Hospital & Research Centre, Nettoor P.O. , Kochi, Kerala,
India
Address of Correspondence
Dr. Rajesh Simon,
VPS Lakeshore Hospital and Research Centre,
Nettoor P.O. , Kochi, Kerala, India.
Email: rajeshsimon@gmail.com
---
Abstract
Background: Plantar fasciitis is one of the most common pathologies seen by foot and ankle surgeon. Treatment is mostly conservative. Further intervention of injections and shock wave therapies have given improvement to many patients. However, when all these therapy fails, surgical intervention is warranted. A thorough investigation is again done to confirm any other cause of pain. MRI usually reveals the thickened medial cord way beyond its normal size. Endoscopic plantar fascioctomy is done to release the thickened medial cord of the plantar fascia. Gastroc recession is added in case of tight gastrocnemius.
Materials and Methods: 11 foot (1M/8F) (2-B/L) treatedfor chronic Plantar fascioctomy with or without Gastroc recession were reviewed in this retrospective sturdy. The mean follow-up was 9 months(range 6 to 24 months). All patients underwent atleast 6 months of conservative management. They were further evaluated with proper evaluation and pre op MRI to confirm the thickness of the plantar fascia pre operatively. All patients were operated with endoscopic plantar fascioctomy with or without gastroc recession depending on the tightness of the gastrocnemius.
Results: At the follow up improvement was noted in all the patients compared to their pre op status. All patients returned to their pre op activity. No major complication was seen.
Conclusion: Endoscopic Plantar fascioctomy with added gastroc recession is a safe and effective procedure for the treatment of chronic plantar fasciitis that gives good relief of symptoms and allow a successful return to normal activity levels
Keywords: Chronic Plantar fasciitis, Endoscopic plantar fasciotomy, Heel pain, Gastrocnemius Recession.
---
References
1. Wolgin M, Cook C, Graham C, Maudlin D. Conservative treatment of plantar heel pain: Long-term follow-up. FootAnkle Int1994;15:97-102.
2. Zirm R, JimenezAL:Results of Heel SpurSurgery, DiNapoli DR (ed) Reconstructil)e Surgety of tbe Foot and Leg, Update 1990Tucker, GA, Podiatry Institute Publishing, pp 199-201, 1990.
3. Stecco C, Corradin M, Macchi V, et al. Plantar fascia anatomy and its relationship with Achilles tendon and paratenon. J Anat. 2013;223(6):665–676. doi: 10.1111/joa.12111.
4. Ehrmann C, Maier M, Mengiardi B, Pfirrmann CW, Sutter R. Calcaneal attachment of the plantar fascia: MR findings in asymptomatic volunteers. Radiology. 2014;272(3):807–814. doi: 10.1148/radiol.14131410
5. Johal KS, Milner SA (2012) Plantar fasciitis and the calcaneal spur: fact or fiction? Foot Ankle Surg 18(1):39–41.
6. Zhou B, Zhou Y, Tao X, Yuan C, Tang K (2015) Classification of calcaneal spurs and their relationship with plantar fasciitis. J Foot Ankle Surg 54(4):594–600
7. Chimutengwende-Gordon M, O'Donnell P, Singh D. Magnetic resonance imaging in plantar heel pain. Foot Ankle Int. 2010;31(10):865–870. Doi: 10.3113/FAI.2010.0865
8. Barrett SL, Day SV, Pignetti TT, Robinson LB. Endoscopic plantar fasciotomy; a multi surgeon prospective analysis of 652 cases. J Foot Ankle Surg1995;34:400-406.
9. Karr Scott D. Subcalcaneal heel pain. OrthopClin North Am1994;25:161-175.
10. Keat Andrew. Spondyloparthropathies. BMJ 1995;310:1321-1324.
11. Kwong PK, Kay D, Voner RT, et al. Plantar fasciitis. Mechanics and pathomechanics of treatment. Clin Sports Med 1988;7:119-126.
12. Lichniak JE. The heel in systemic disease. ClinPodiatr Med Surg1990;7:225-241
13. Baxter Donald E. The heel in sport. Clin Sports Med 1994;13: 683-693.
14. Leach RE, Seavey MS, Salter DK. Results of surgery in athletes with plantar fasciits. Foot Ankle 1986;7:156-161.
15. Sarrafian SK. Anatomy of the foot and ankle: Descriptive,topographic, functional. Phildelphia: JB Lippincott, 1993;127-137.
16. Arangio GA, Chen C, Kim W. Effect of cutting the plantar fascia on the mechanical properties of the foot. ClinOrthop1997;339:227-231.
17. Hawkins BJ, Langermen RJ, Gibbons T, Calhoun JH. An anatomic analysis of endoscopic plantar fascia release. FootAnkle Int1995;16:552-558
18. Huang CK, Kitaoka HB, An KN, Chao EY Biomechanical evaluation of longitutudinal arch stability. Foot Ankle 1993;14:353-357.
19. Kitaoka HB, Luo ZP, An KN. Effect of plantar fasciotomy on
the stability of the arch of the foot. ClinOrthop1997;344:307- 312.
20. Reeve F, Laughlin RT, Wright DG. Endoscopic plantar fascia release; a cross sectional anatomic study. Foot Ankle Int1997;18:398-401.
21. Kinley S, Frascone S, Calderone E, et al. Endoscopic plantar fasciotomy versus traditional heel spur surgery: A prospective study. J Foot Ankle Surg1993;32:595-603.
22. Tomczak RL, Haverstock BD. A retrospective comparison of endoscopic plantar fasciotomy with heel spur resection for chronic plantar fasciitis/heel spur syndrome. J Foot Ankle Surg1995;34:305-311
23. Daly PJ, Kitaoka HB, Chao EY. Plantar fasciotomy for intractable plantar fasciitis: Clinical results and biomechanical evaluation. Foot Ankle 1992;13:188-195
24. Hoefnagels E, Weereheijm L, Louwerens JW, et al. Chronic therapy resistant plantar fasciitis, the effect of lengthening the gastrocnemius muscle. Foot Ankle Surg. 2016; 22(2):58.
25. Monteagudo M, Maceira E, Garcia-Virto V, Canosa R. Chronic Plantar fasciitis: plantar fasciotomy versus gastrocnemius recession. IntOrthoped. 2013; 37(9):1845-1850
---
How to Cite this article: Simon R, Kandathil J C, Jose D P. Endoscopic Plantar Fasciotomy with Gastrocnemius Recession for Chronic Plantar Fasciitis. Asian Journal of Arthroscopy May-Aug 2018;3(2):20-23.
---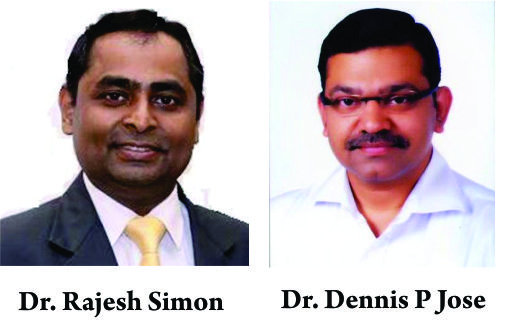 ---
---
Endoscopic Plantar Fasciotomy with Gastrocnemius Recession for Chronic Plantar Fasciitis
http://asianarthroscopy.com/wp-content/uploads/2016/02/AJA-WORD-300x94.png
0
0
Ajaadmin2016
http://asianarthroscopy.com/wp-content/uploads/2016/02/AJA-WORD-300x94.png
Ajaadmin2016
2018-05-10 19:15:12
2019-04-15 14:28:28
Endoscopic Plantar Fasciotomy with Gastrocnemius Recession for Chronic Plantar Fasciitis